Dive into our pool, a 10 x 20 metre oasis of coolness and fun for your family and friends: the heart of our Aparthotel.
There is a large swimming pool with a round pool for children. Sunbathe, relax and have fun with your friends in the poolside area equipped with sun beds, umbrellas, shower and toilet facilities.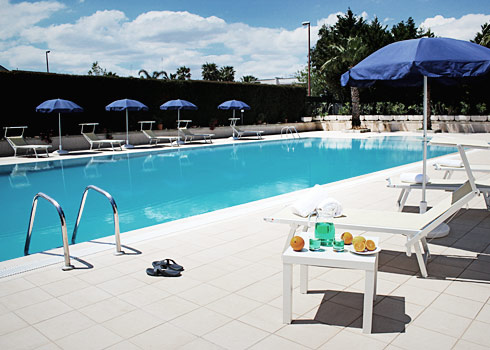 For your safety, a lifeguard is in attendance at all times during pool opening hours::
→ 9 am – 1 pm and 3:30 pm – 7:30 pm
Enjoy a refreshing drink at the bar and join the pool games:
→ 9:30 am – 12:30 pm and 4:30 pm – 7 pm.
There is a Baby Area, with children's pool and a play area set in green surroundings.
Tailor your seaside holiday to suit your needs Torre dell'Orso, between Otranto and Lecce: splendid bays and beaches in the heart of Salento.