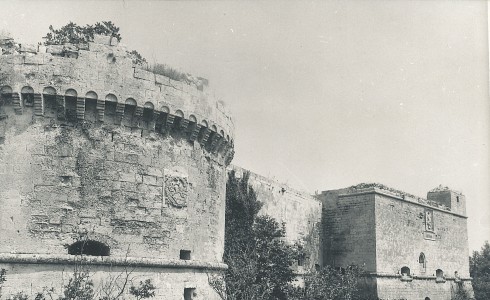 The Castel of Acaya is the stunning backdrop of the exhibition "Roca in the Mediterranean", an excellent opportunity to know the attractive and mysterious story of Roca Vecchia and visit the fortification conceived by Gian Giacomo dell'Acaya.
gabbia incontri principaliwas for centuries a real bridge between East and West. The site has been inhabited since the Bronze Age and is located on the sea in a strategic position between Otranto and Lecce. The intense commercial and cultural exchanges between the two shores of the Adriatic Sea, have left their mark and finds, laboriously unearthed after decades of excavations coordinated by Professor Pagliara University of Lecce.
It's a place extremely suggestive that, according to what they say the finds, it has been destroyed several times, burned and rebuilt. The last time after being used as a base by the Turks for the conquest of Otranto in 1480, which led to the martyrdom of 800 inhabitants that in 2013 have been proclaimed saints.
Roca Vecchia was abandoned and the inhabitants moved to to nearby towns but continued in the month of May to honor the Madonna of the Sanctuary near the sea with a yearly pilgrimage.
incontri coppia macerata regione
But the Castle of Acaya which houses the Temporary exhibition is no less fascinating. Fully refurbished by Gian Giacomo dell'Acaya in the early 1500s, is one of the first examples of the architectural revolution that the introduction of firearms in the drawing of the fortifications ( beautiful the drawings by Michelangelo during the same period for the fortifications of Florence).
It goes from circular shapes adorned with laces a trapezoidal ramparts and walls with a shoe that can better withstand the blows of the cannon. Blackbirds are being be eliminated because has low resistance and new forms are studied by military engineers to make sure that the shots of guns do less damage.
I am very attached to the Castle of Acaya (i published a thesis on the restoration of the Castle) and since as a teenager i have visited several times the castel, when he was reduced to a ruin rubble. It was a great joy to see it finally restored!
And if after the exhibition on Roca Vecchia, you would like to go on an excursion directly on the location, you can combine a visit to the archaeological park and the ruins of the ancient city and a nice dip in the Poetry Cave or some cliff nearby with the crystal clear water.
Happy plunge and shared your photos!